Solar based RO for Desalination
Institute: CSIR-CSMCRI | Category: Sustainable Technology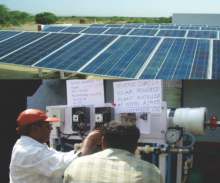 CSIR-CSMCRI has developed solar operated RO plant for desalination of water. Such plants have been commercialized and have been operating successfully in Rajasthan state.

NALSUN Coating Technology for Domestic Water Heating Applications
Institute: CSIR-NAL | Category: Sustainable Technology
It is a cost-effective electrodeposited black chrome coating with service life more than 20 years. It is also useful for decorative and anti-glare applications. It is patented in different countries (India, Australia, Canada, Europe, U.S.A). The know-how has been transferred to many entrepreneurs.